• Dressage Schooling Show • Obstacle Challenge
• Wagon Wheel Campout • Cuyamaca Campout • Drill Team - Members Only
Paint Class

Come unleash your inner ARTIST!!!

VPR sponsored a "Paint Class" a couple years ago and it was a blast!

Denise from "Pacific Cork & Canvas" will bring all the art supples. She will teach us step by step on how to complete our artwork.

VPR will provide snacks and water. Class is limited 14 to 15 participants so sign up early.

Cost: $30

Date: Thursday, February 27
from 6:00 to 9:00

COME JOIN THE FUN!!

For more information or questions Contact: Teri at teriardito@gmail.com or 760-207-1700
Vista Palomar Riders

Tack Swap Meet

Saturday, April 4, 2020

8 am - 2 pm

$15 for members

$25 for Non Members

Vendors Welcome!

To reserve your spot Contact: Susan Freitas at mydarkpony@yahoo.com or 760-458-0836
Richard Winters

Solid Horsemanship Clinic

June 4 - 5, 2020

Personalized Instruction
Limited to 10 Riders

Time: 9:00 a.m. - 4:00 p.m.
Location: Vista Palomar Riders
973 Little Gopher Canyon Rd. Vista, CA


Contact: Cindy Rota
csrota@gmail.com
760-518-8536

Click on image for full view flyer
Richard Winters

Advanced Horsemanship Clinic

June 6 - 7, 2020

Personalized Instruction
Limited to 10 Riders

Time: 9:00 a.m. - 4:00 p.m.
Location: Vista Palomar Riders
973 Little Gopher Canyon Rd. Vista, CA


Contact: Cindy Rota
csrota@gmail.com
760-518-8536

Click on image for full view flyer
Vista Palomar Riders' ~ 2019 Annual Wagon Wheel Campout



October 18-20, 2019

Lots of Activities to Enjoy:






VPR ~ CDS Dressage Schooling shows 2019
Drill Team
September 5, 12, 19, & 26
October 3 & 10

* PLEASE NOTE *
This series is for VPR Members Only


For more information and to register
Please contact Peggy 760 473 7780



Hosted by Vista Palomar Riders
973 Little Gopher Canyon Road, Vista

Disaster Planning Workshop
for Horse Owners
Saturday, August 3rd, 8:30 – 3:00 p.m.

Event Details

*8:30 Check-In

*9:00 Presentations Begin:

Wildfire and Horses: Lessons Learned

Panel Discussion/Q&A with first responders and equine experts

Hands-On: Create Your Own Emergency Plan!
*12:30 Break-out Sessions:

Microchip Clinic - bring your horse! ($40 per)

Demonstration: How to Load a Difficult Horse

PLUS: food truck, vendor booths, sample barn plans, emergency kit supplies, and more!

This event is FREE to the equestrian community, but you must PRE-REGISTER!

Call or text 619-306-8705
Click on image for full view flyer

Vista Palomar Riders presents

How to Create a Neighborhood Emergency Plan
Bring your equestrian neighbors, friends, and barn mates, and learn how others have successfully formed neighborhood-specific networks to provide mutual aid during evacuations and emergencies.


NOVEMBER 12TH
5:30-8:00PM

RSVP REQUIRED 619-306-8705
$10 per person non-members (cash/check only, collected at the door) VPR members free

Connect with Your Neighbors, Leave With a Plan!

Nancy Reed, Equestrian Chair of the Elfin Forest/Harmony Grove Town Council:

Presenting their model and lessons learned

Effective communication during emergencies
Neighborhood-focused discussions facilitated by experts


Special Guest: San Diego County Department of Animal Services and San Diego Humane Society Emergency Response Team

Neighbor to Neighbor: Organizing a Mutual Aid Network
VPR Obstacle Challenge - Buckle Series 2019

Mark your Calendars: May 5th – June 2nd – July 7th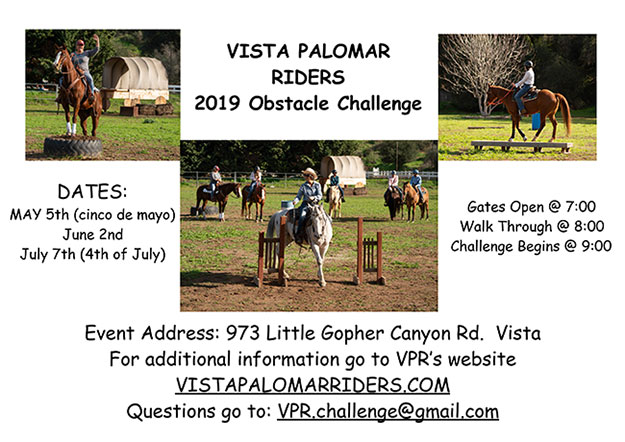 NOTE: Entry, Rules & Liability Release Forms must be signed & returned with payment by the Wednesday before event date.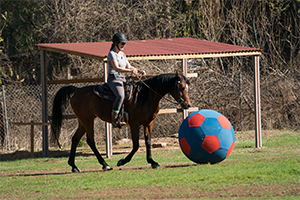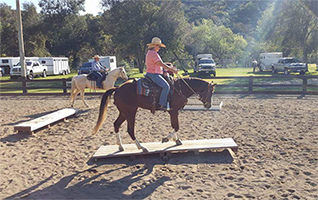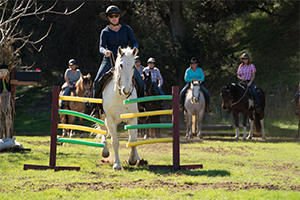 Cuyamaca Campout 2019

July 11-15, 2019

Thursday from 10 am through Monday 12 pm

Space is limited and cannot be held - so please sign up early. Your spot is not reserved until we've received payment so don't forget to send a check with your completed application. No refunds after June 10th unless a replacement is found for your spot.

Contact: Lyn Lynch vprcampout@gmail.com
Stall and parking spaces are limited to 25 rigs and 45 horses…no extra parking available.

Los Vaqueros Group Horse Campground can accommodate a group of up to 80 people and 45 horses. There is room for about 25 large vehicles/rigs with a maximum length of 50 feet. There is no extra room so please ride share when possible.

Please click on Cuyamaca Campout flyer at right to read more information you need to know.
Cuyamaca Campout 2017
Horse Shows Held at VPR:

Southern California Horsemans Council (SCHC Shows at VPR)